Welcome onboard MephiroX,
Great work with the excel sheet (I usually do such things in excel, too haha)! Could you please explain what the #List refers to in your sheet?
Regarding the Creation circle, I plan to do something with it (no idea what, and what format would look good and helpful). That page is just as it was when I arrived here. I have soo soo much work to do here and I cannot develop every article at the same time :) I updated the Hero-box template too, so now it is (and will be ~ once the other heroes' pages are updated) visible from what and into what you can fuse a hero (see Baade for example). That way you can go all-around the wiki.
Updating the hero-pages to the new code would look good and would be helpful. If you fancy you could do that for example :) (Don't worry about the missing images, just write the code as you see for ex. in Baade's page, I'll upload the missing images asap ~ or you could upload yours as well, just pay attention to use the same naming-pattern that we use. [[File:Baade-5-icon.png]] will give you

while [[File:Baade-5.png]] will give you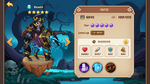 )
I can upload the images quickly as I'm a graphic artist so I'll make them appropriate for use here (rounded edges, transparent etc...)
We can figure out something for the Creation circle too, just tell me what you're up to!
But feel free to contribute to anything you'd like to, enjoy your time here :)
Edit1: Templates that you can use: Template:Hero-box, Template:Iconlink, Template:Item, Template:Item/Equipment these are the ones I made
---
Community content is available under
CC-BY-SA
unless otherwise noted.