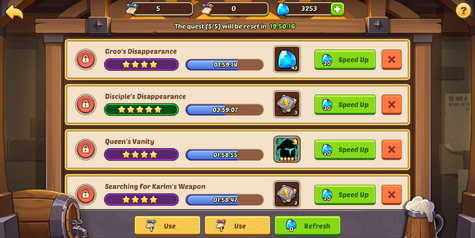 Tavern displays quests that can be completed for different rewards.
The quests will reset daily or can be refreshed any time with (10

Gems*number of not locked quests).
The amount of quests available can be increased temporarily through

Basic Quest Scroll and

Senior Quest Scroll. It can be increased permanently through different tiers of VIP.
Quests can be completed quicker by spending

Gems.
Probability
Possible rewards
1★
25%
3-5
1x
2★
28%
6-9
2x
5-10x
3★
23%
15-30
3x
12-20x
1x
4★
15%
40-59
1x
4-8x
2x
1x
5★
8%
80-98
2x
10-19x
3x
2x
6★
1.6%
121-180
1x
3-5x
30-50x
30x
7★
0.4%
298-348
2x
11-20x
80-100x
50x