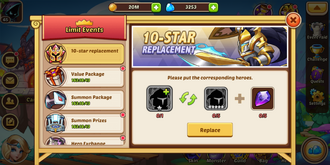 Events is a function accessible directly from the home screen of the game. In addition to the Login Bonus event, different events are held each week, one event or more at the time.
There is no event calendar, so while it is impossible to reliably determine what event comes next, it is possible to predict the next event as there are typically four weeks between each of the same event. However, there is an event preview which shows the next events
Weekly Events
Heroic Summon Event
The Heroic Summon Event is a self explanatory event. The player has to summon heroes via

Heroic Summon Scroll to earn the event rewards.
To collect all prizes of a Heroic Summon Event you will have to summon about 550 heroes. Summons with

Hearts and

Basic Summon Scrolls will not count towards the rewards.
Prophet Summon Event
The Prophet Summon Event is very similar to the Heroic Summon Event. The player has to summon heroes via

Prophet Orbs to earn the event rewards.
To collect all prizes of this Event you will have to use about 120 Prophet Orbs. Replacing a hero with the help of

Prophet's Blessings will not count.
Wishing Fountain Event
In the Wishing Fountain Event you have to spin multiple times in the Wishing Fountain to receive additional rewards. For every spin you'll need one

Wishing Coin. Every spin results in one event point.
For getting all prices of this event you will have to spin 300 times. Spins with

Super Wishing Coins will not count. If you're at least VIP 2 or level 80 you definitely should spin 10 times for 8 coins because you'll get 10 event points anyway. With 8 coins for 10 spin, you'll only need to spend 240 coins spinning 10 at a time, instead of the 300 required to complete the event.
Reset automatically after all the quests are completed. Players can complete the quests up to 4 times to get rewards.
Heroic Miracle Event
While the Heroic Miracle Event you have to summon different amounts of 5-Star heroes of each faction. You normally receive two parts of orange equpiment for every stage you finish. If you complete every single task of this event you get an additional reward like a 5-Star hero.
Hero Exchange Event
While the Hero Exchange Event you can use
Soul Stone Shards to exchange temporarily available heroes from the hero store of the Altar. Usually, these heroes are quite rare and can't be bought from other stores.
Gray Dwarves' Blessing Event
During the event you can upgrade 4 star or above Orange Suits by consuming
Gold and

Gems. This includes one set of Exclusive Class Suits of your choice. Each upgrade can be done only once.
Monthly Events
These Events will be reset per 30 days. Monthly Events coexist with Weekly Events and they are fusion/tavern/broken space/Militant.
Fighters' Competition
The Competition event is a self-explanatory event. You'll get points for every victory in Crystal Crown League or Trail Of The Champions and receive rewards for different stages of gathered points.
To collect all the prizes of this event you will have to invest between 300 and 350

Arena Tickets. If you complete every single stage you'll receive a random limited edition avatar for your profile.
Fighters' Competition
Description
Earn points to win prizes. You get 3 points for every victory in Crystal Crown League or Trial Of The Champion. You get 1 point if you fail. Furthermore you'll receive 5 glorious relics if you complete all stages of this event.
Full Completion
5x
30 Points
200x , 2x
60 Points
300x , 2x
100 Points
500x , 3x
150 Points
500x , 3x
Rewards

⯈

Trial Of The Champion
30 Points
300x , 2x
60 Points
500x , 3x
100 Points
500x , 10x
150 Points
700x , 50x

}}

Tavern Quest Event

The Tavern Quest Event is about completing different numbers of specific quests beginning from 4-Star till 7-Star. To complete 6-Star and 7-Star you'll need at least one 6-Star hero. Refreshing the available quests in tavern can help to get the required ones. The number of quests required is relative to the stars of the quest; 30x 4-Star quests, 20x 5-Star quests, 5x 6-Star quests and 2x 7-Star quest. In addition to this, you will also receive rewards for each 4 to 7-Star quest completed.

Tavern Quest Event
Description
You have to complete the required number of specific Tavern quests to get various rewards.
Full Completion
5x
Rewards
4★ Quests

(30x)

10x , 1x
5★ Quests

(20x)

5x , 2x
6★ Quests

(5x)

5x , 3x
7★ Quests

(2x)

10x , 50x

Fusion Event

This event is the worst for newcomers and the best event for long-time players. Fusion event offers great rewards for every fusion done in the Creation circle. Since you need a ton of heroes for every fusion, you most likely won't be able to complete the different stages of the event during the first 1 - 2 times, depending on your hero luck.

Fusion Event
Description
You can repeatedly gain rewards for 5- or 6-Star fusion in the Creation circle.
Rewards
5★ Fusion

(20x limit)

1000K , 1000x , 600x
6★ Fusion

(8x limit)

4000K , 5000x , 300x , 1x
9★ Fusion

(3x limit)

8000K , 8000x , 2x
10★ Fusion

(1x limit)

1000x , 4x

Broken Spaces Event

During the Broken Spaces Event, you can exchange a Challenge Badge to fight in one of three different spaces to get various rewards, similar to the Celestial Island bosses. During the event, 4x Challenge Badges are received in the mail each day and it is possible to receive them as Campaign loot.

The spaces to fight in are as follows: Human-Ghost United which rewards Gold; Hell Strike which rewards Magic Dust; Light-Dark Union which rewards Monster Souls and Chaos Stones.

If the opponents of a Broken Space are defeated, the player receives an additional reward. Furthermore, the player receives another reward at the end of the event, depending on the total damage scored.

Special events

There are a few events that seem to appear randomly, but mostly on holidays or similar festivities. While these events, players have a doubled chance to summon 5-Star heroes, receive gems, special avatars or other limited things.

Some examples for such events are the christmas holidays, the valentines day or the anniversary of Idle Heroes.

Login Bonus Event

The Login Bonus is no classic event but it's recurring monthly for every player. For the first 30 days and every month afterwards, players can get a reward every day for checking in. The days logged in do not need to be consecutive. The calendar will carry on from when it was stopped. In the game, it is organised into a 5x6 grid, as it is presented below.

Login Rewards for the first month
Day 1
150x
Day 2
1x
Day 3
150x
Day 4
1x
Day 5
150x
Day 6
200x
Day 7
150x
Day 9
1x
Day 10
150x
Day 11
150x
Day 12
200x
Day 14
1x
Day 15
150x
Day 16
150x
Day 17
150x
Day 19
1x
Day 20
200x
Day 21
150x
Day 22
150x
Day 24
150x
Day 25

1⁄5

Day 26
200x
Day 27
150x
Day 28
150x
Day 29
200x
Day 30
5x

}}

By the end of the first month, players will have received a total of 3100x Gems, 5x Heroic Summon Scrolls, 1x Aleria, 1x Starlight and a full set of the Hunter Suits. The reward table of the following months differ from the first month's, but are always the same, except for the free 5-Star hero.

Login Rewards for the following months
Day 1
30x
Day 2
30x
Day 3
30x
Day 4
10x
Day 5
30x
Day 6
30x
Day 7
1x
Day 8
30x
Day 9
100x
Day 10
10x
Day 11
30x
Day 12
30x
Day 13
30x
Day 14
30x
Day 15
10x
Day 16
30x
Day 17
150x
Day 18
1x
Day 19
30x
Day 20
30x
Day 21
10x
Day 22
30x
Day 23
30x
Day 24
30x
Day 25
30x
Day 26
30x
Day 27
10x
Day 28
30x
Day 29
200x
Day 30
2x

}}

By the end of all other months after the first, you'll receive a total of 930x Gems, 4x Heroic Summon Scrolls, 90x 4 Star Hero Shards and one 5-Star hero. Please note, that you don't get 5 Star Hero Shards (as shown in the table). This is just a placeholder for the different heroes you'll receive.

The following table shows you which free 5-Star hero you receive depending on the month. After 7 months, the rotation starts again with the first hero that is part of the cycle (Lutz).

Month
2
3
4
5
6
7
Hero

}}

Current Events

Shelter Mission

10 Jan 2020 UCT

Description
During the event, player can consume appointed heroes, Gold and gems to complete Shelter Missions and get generous rewards.
Each mission can only be completed once.
Daily gift
Missions
Event Cost
Event Rewards
Mission 1
4x 1x

Fortress-Mage

1x Valentino, 1x , 1x
Mission 2
4x 1x

Shadow-Priest

1x 32px Gustin,1x, 1x
Mission 3
4x 1x

Forest-Priest

1x Oberon, 1x, 1x
Mission 4
4x 1x

Abyss-Priest

1x Kroos, 1x, 1x
Mission 5
2000x 2x

-

1x Dark Arthindol
Mission 6
2000x 2x

-

1x Asmodel

Wishing Fountain

10 Jan 2020 UTC

In-Game Description
Earn points to win prizes. You get 1 point for every spin of the Wishing Fountain wheel (excludes Super Wishing Fountain). Reset automatically after all the quests are completed.
Players can complete the quests multiple times (max of 4 times) to get rewards.
This event you also get 4 Chun Sticker per round(1 per stage) which are only good for reward if you pay for the Spring Festival Card. Then you will get an extra 666 Gems and 10 Heroic Summon Scrolls per 2 or 3 stickers you have up to 16 Max(4 rounds of Wishing finished).
Daily gift
1x Super Wishing Coin  + 150 x
Rewards
50 Points
2x , 2x
100 Points
2x , 2x
200 Points
2x , 4x
300 Points
2x , 1x Barea, 5x

Gray Dwarves' Blessing

10 Jan 2020 UTC 2 week

In-Game Description
During the event you can upgrade to the more advanced Orange Suits with 4 stars and above, including one set of Exclusive Class Suits of your choice. Each upgrade can be done only once.
Daily gift
Costs
Upgrades
1500 , 40M
2500 , 60M
4000 ,100M

Predicted Events

These events are the possible events that are going to occur over the coming week/s. Beware that rewards shown here are only a guess of what the actual event rewards might be or they are the rewards that were offered the last time event was on. Currently leaks regarding the next event appear on Idle Heroes offical facebook Tuesdays approx.

Week Starting 17 Jan

NOTE: the rewards shown here are old event rewards and placeholder examples only until closer to the event when leaks are released. These could change at any moment until event.

Heroic Summon

17 Jan 2020 UCT

Description
Earn points to win prizes. You get 1 point for every heroic summon you complete. Furthermore the chance to receive a 5-Star hero via heroic summon is doubled. The chance to get Tara is increased. Maximum 4 rounds can be completed during the event.
Daily gift
3x
Rewards
50 Points
3x , 10x
100 Points
3x , 10x
200 Points
4x , 10x 1x Walter
300 Points
5x , 5x
400 Points
1x Tara
500 Points
15x
Additional advantages while the event is on
Hero Lottery

1 hero

You'll be rewarded with , , and every time you summon the hero(es) of the week Tara during the event.

Hero Exchange

17 Jan 2020 UCT

Description
Use Soul Stone Shards to exchange temporarily available heroes from the Altar.
Heroes for flash exchange can only be exchanged for once.
Daily gift
Temporarily Available Heroes
6000 Soul Stone Shards
50 shardsx Belrain
6000 Soul Stone Shards
50 shardsx Mihm




Week Starting 24 Jan

NOTE: the rewards shown here are old event rewards and placeholder examples only. Either this week or next week will be the start of Chinese new year event

Heroic Miracle

24 Jan 2020 UCT

Description
You have to complete the required number of specific hero summons to earn different rewards. Additionally, you will receive 1x 5 star Hero when you complete all the tasks.
【Heroic Miracle】

Complete tasks to get awesome rewards, .

Daily gift
Summon Limit
Fraction
Rewards
2
5 Light
1x , 1x , 5x
2
5 Dark
1x , 1x , 5x
3
5 Forest
1x , 1x , 6x
3
5 Abyss
1x , 1x , 6x
3
5 Fortress
1x , 1x , 6x
3
5 Shadow
1x , 1x , 6x
Complete all Heroic Miracle Quests
Aspen

Prophet Summon

24 Jan 2020 UCT

In-Game Description
You must use Prophet Orb to earn points towards the event.

1x = 1 Point.
The Prophet Summon Event is repeatable, meaning you can fully complete it up to a maximum of 4 times.
【Prophet Summoning Event】

It's your chance to get rewards of heroes:

await you. 


Daily gift
1x
Points required
Rewards
10 Points
30x , 30x
20 Points
50x
30 Points
50x
40 Points
1x Dark Spirit
50 Points
1x Divine Spirit
60 Points
1x Sigmund
80 Points
1x Nakia, 15x

Glory Holy Relic

Week Starting 31 Jan

NOTE: the rewards shown here are old event rewards and placeholder examples only. If Chinese new year event did not start the week before if might be here due to china celebrating this festival for over a week with places shutting down this might be a 2 week event. This will either be the 2 week or the start of the 2 weeks. New hero may be released.

Mysterious Chest

31 Jan 2020 UCT

Description
Purchase Treasure Chests with Gems. Each chest can be bought only once.
Daily gift
Chests
Reward Cost
Rewards
34px  BFChest1
500
5x , 5000x
 Chest2
1200
5x , 5000x
 Chest3
2400
8x , 2000x
 Chest4
4000
50x , 20K
 Chest5
6000
1x Cthugha, 25K Guild Coin

50pxIdlers' Sweet House

31 Jan 2020 UCT

In-game Description
During the event, consume to exchange for rich rewards.

Sources of :

Loot in Campaign Auto=battle
Daily Reward in system mail
Value Package
NOTE: Remember to login every 8hr approx to collect your battle loot. This could get you 2100 to 2400 .

Daily gift
100x
Temporarily available exchange rewards

⯈

Donut Exchange
Reward Cost
Rewards
1

Donut

50K
2

Donut

30K
100

Donut

1x
120

Donut

1x
300

Donut

1x
1500

Donut

1x (Kameth Limited Skin)
2300

Donut

1x King Barton
2700

Donut

1x Oberon
3000

Donut

1x Aspen
3600

Donut

1 x 28px

Lucky Candy Bar

3600

Donut

1 Augustus Magic Ball




Tips:

⯈

Information and advice regarding the event and recommendations.

For Beginners recommend Prophet Orbs then Scrolls then use the rest on gold or spirit as needed.
If you plan on spending money Light/Dark Hero and/or the Artifacts.
Heroes are only recommended if you plan on building them past 10 Star
Limited Skins are good if you not need the orbs and it is for a hero you plan to Enable. (Mid to End Game players.)

Past Events

---

There are many more past events. Please expand the following area to show them all.

---

2019

Heroic Miracle

27 Dec 2019 UCT

Description
You have to complete the required number of specific hero summons to earn different rewards. Additionally, you will receive 1x 5 star Hero when you complete all the tasks.
【Heroic Miracle】

Complete tasks to get awesome rewards, .

Daily gift
Summon Limit
Fraction
Rewards
2
5 Light
1x , 1x , 5x
2
5 Dark
1x , 1x , 5x
3
5 Forest
1x , 1x , 6x
3
5 Abyss
1x , 1x , 6x
3
5 Fortress
1x , 1x , 6x
3
5 Shadow
1x , 1x , 6x
Complete all Heroic Miracle Quests
Aspen

Prophet Summon

27 Dec 2019 UCT

In-Game Description
You must use Prophet Orb to earn points towards the event.

1x = 1 Point.
The Prophet Summon Event is repeatable, meaning you can fully complete it up to a maximum of 4 times.
【Prophet Summoning Event】

It's your chance to get rewards of heroes:

await you. 


Daily gift
1x
Points required
Rewards
10 Points
2x ,30x , 30x
20 Points
2x , 50x
30 Points
2x , 50x
40 Points
2x , 1x Dark Spirit
50 Points
2x , 1x Divine Spirit
60 Points
5x , 1x Sigmund
80 Points
1x Nakia, 15x

Glory Holy Relic

50pxNew Year 7-Day Gifts

27 Dec 2019 UCT

Description
Log in during the event to get rewards.
Daily Reward
1x 32px  + 10 x 32px + 1 x

See in game for other login rewards

None

Log-In Rewards




50pxNew Year Gift Box

27 Dec 2019 UCT

Description
During event have a chance to obtain wealth box and happiness box when auto-battling. Open them in your bag to get rewards.
Daily gift

None







Gray Dwarves' Blessing

13 Dec 2019 UTC 2 week

In-Game Description
During the event you can upgrade to the more advanced Orange Suits with 4 stars and above, including one set of Exclusive Class Suits of your choice. Each upgrade can be done only once.
Daily gift
Costs
Upgrades
1500 , 40M
2500 , 60M
4000 ,100M




Heroic Summon

20 Dec 2019 UCT

Description
Earn points to win prizes. You get 1 point for every heroic summon you complete. Furthermore the chance to receive a 5-Star hero via heroic summon is doubled. The chance to get Tara is increased. Maximum 4 rounds can be completed during the event.
New Hero Tara: Light Warrior - Keyword: Light Seal
Daily gift
3x
Rewards
50 Points
3x , 10x
100 Points
3x , 10x
200 Points
4x , 10x 1x Walter
300 Points
5x , 5x
400 Points
1x Tara
500 Points
15x
Additional advantages while the event is on
Hero Lottery

1 hero

You'll be rewarded with , , and every time you summon the hero(es) of the week Tara during the event.

Hero Exchange

20 Dec 2019 UCT

Description
Use Soul Stone Shards to exchange temporarily available heroes from the Altar.
Heroes for flash exchange can only be exchanged for once.
Daily gift
Temporarily Available Heroes
6000 Soul Stone Shards
50 shardsx Belrain
6000 Soul Stone Shards
50 shardsx Mihm

Special Christmas Event

To access the Christmas Event Interface you need to tap on the Christmas Event Icon from the main screen on the right just under the standard event interface icon.

X'mas Gifts

20 Dec 2019 UCT

Description
Log in during the event to get goodies such as Gingerbread Cookies or Xmas Stars from the socks, together with other goodies! - First sock is free, second and third sock can be purchased with gems, the last sock is $$$ - You will not lose rewards if you skip a day in between the event, or buy the 2 socks from 2nd day onwards
NOTE: Gems and Real Money are required to get more rewards
Daily Reward
3x 32px  + 2 x  + 1 x

See in game for other login rewards

None

Log-In Rewards




Wishing Elves

20 Dec 2019 UCT

Description
You can select your wish for this event. You have to make 4 wishes: 1 limited skin, 1 non-LD hero, 1 LD hero, and 1 event artifact. - For each wish, you will be given the choice of 3 chests. You have to spend stars to unlock each chest. Unlocking all 3 chests will guarantee you your wished reward. To get all 4 wishes, you need to unlock 12 chests using Xmas stars
Daily gift

None




Santa's Tests

20 Dec 2019 UTC

In-Game Description
Before giving out the gifts, Santa's gonna check how you behaved yourself this year.
Take the below tests, pass them and then accept Santas gifts (send via mail).
NOTE: 2019 Christmas Day Event
Daily gift

None

Required Task

 Rounds Allowed: Depends on task

Rewards
Complete Heroic Summons 10 times
1x 28px

X'mas Star

, 1000Kx
Get 1 5-star hero from Summon Circle, Creation Ciricle, or Shard summon (limit 50)
1x 28px

X'mas Star

, 30 Shardsx 4_Star_Hero_Shard
Complete 1 4-star and above Tavern Quests (limit 30)
1 Shardsx 28px

X'mas Star

, 1000x Magic Dust
Obtain 5-star Tara for the first time (limit 1)
10x 28px

X'mas Star

, 1x 28px

Christmas Elf

| 10x ,
Obtain 6-star Tara for the first time (limit 1)
20x 28px

X'mas Star

, 888x Gems

10x ,

Obtain 10-star Tara for the first time (limit 1)
20x ,
60x 28px

X'mas Star

, 1x 28px

Spirit of Creation







Gingerbread Puppet House

25 Oct 2019 UCT cont through 1 Nov 2019 UCT 2 weeks

Information
USe Gingerbread Snowman and Gingerbread Snowflakes to exchange 9/10* puppets to 6* puppets, or to get free dummies

Sources of items needed:

Daily Reward in system mail
Value Package
Purchase with Gems at the event interface
NOTE: 2019 Christmas exchange Event

Daily gift
1x Gingerbread Snowman

None




Shelter Mission

13 Dec 2019 UCT

Description
During the event, player can consume appointed heroes, Gold and gems to complete Shelter Missions and get generous rewards.
Each mission can only be completed once.
Daily gift
Missions
Event Cost
Event Rewards
Mission 1
4x 1x

Fortress-Assassin

1x Xia, 1x , 1x
Mission 2
4x 1x

Shadow-Mage

1x Jahra,1x, 1x
Mission 3
4x 1x

Forest-Ranger

1x Valkyrie, 1x, 1x
Mission 4
4x 1x

Abyss-Warrior

1x King Barton, 1x, 1x
Mission 5
2000x 2x

-

1x Sleepless
Mission 6
2000x 2x

-

1x Michelle

Wishing Fountain

13 Dec 2019 UTC

In-Game Description
Earn points to win prizes. You get 1 point for every spin of the Wishing Fountain wheel (excludes Super Wishing Fountain). Reset automatically after all the quests are completed.
Players can complete the quests multiple times (max of 4 times) to get rewards.
Daily gift
1x Super Wishing Coin  + 150 x
Rewards
50 Points
2x , 2x
100 Points
2x , 2x
200 Points
2x , 4x
300 Points
2x , 1x Ormus, 5x

Lucky Wishing Fountain

13 Dec 2019 UTC

In-Game Description
During the Event consume Wishing Coins to claim rich rewards. (send via mail).

Spend Gems to enable the reset button, which will give you another 10 rounds to earn quest reward.(quests progress remain unchanged) Gem Consumption of reset = Reset counts x1000

Daily gift

None

Required Task

 Rounds Allowed: 10

Rewards
Draw 50 times at Wishing Fountain
500x Monster Souls, 2000x
Draw 10 times at Super Wishing Fountain
100x Chaos Stone, 2000x Magic Dust

50pxIdlers' Sweet House

6 Dec 2019 UCT

In-game Description
During the event, consume to exchange for rich rewards.

Sources of :

Loot in Campaign Auto=battle
Daily Reward in system mail
Value Package
NOTE: Remember to login every 8hr approx to collect your battle loot. This could get you 2100 to 2400 Donuts.

Daily gift
100x
Temporarily available exchange rewards

⯈

Donut Exchange
Reward Cost
Rewards
1

Donut

50K
2

Donut

30K
100

Donut

1x
120

Donut

1x
300

Donut

1x
1500

Donut

1x (Kameth Limited Skin)
2300

Donut

1x King Barton
2700

Donut

1x Oberon
3000

Donut

1x Aspen
3600

Donut

1 x 28px

Lucky Candy Bar

3600

Donut

1 Augustus Magic Ball




Tips:

⯈

Information and advice regarding the event and recommendations.

For Beginners recommend Prophet Orbs then Scrolls then use the rest on gold or spirit as needed.
If you plan on spending money Light/Dark Hero and/or the Artifacts.
Heroes are only recommended if you plan on building them past 10 Star
Limited Skins are good if you not need the orbs and it is for a hero you plan to Enable. (Mid to End Game players.)

Mysterious Chest

6 Dec 2019 UCT

Description
Purchase Treasure Chests with Gems. Each chest can be bought only once.
Daily gift
Chests
Reward Cost
Rewards
 Chest1
500
5x , 5000x
 Chest2
1500
4x , 10Kx
 Chest3
2500
1x , 3000x
 Chest4
4000
50x , 20K
 Chest5
6000
1x , 30K Guild Coin
Tips:

⯈

Information and advice regarding the event and recommendations.

Aim for the 6K chest if only for the Guild coins
Next best the Prophet Orbs
Other wise the Heroic Scrolls
Chest 4 and 3 only recommended if you need the material for hero or monster upgrade

Heroic Miracle

29 Nov 2019 UCT

Description
You have to complete the required number of specific hero summons to earn different rewards. Additionally, you will receive 1x 5 star Hero when you complete all the tasks.
【Heroic Miracle】

Complete tasks to get awesome rewards, fulfill all to get Light Priest.

Daily gift
Summon Limit
Fraction
Rewards
2
5 Light
1x , 1x , 5x
2
5 Dark
1x , 1x , 5x
3
5 Forest
1x , 1x , 6x
3
5 Abyss
1x , 1x , 6x
3
5 Fortress
1x , 1x , 6x
3
5 Shadow
1x , 1x , 6x
Complete all Heroic Miracle Quests
Belrain

Prophet Summon

29 Nov 2019 UCT

In-Game Description
You must use Prophet Orb to earn points towards the event.

1x = 1 Point.
The Prophet Summon Event is repeatable, meaning you can fully complete it up to a maximum of 4 times.
【Prophet Summoning Event】

It's your chance to get rewards of heroes: Glorious Relics, Ranger (underage 🙇‍♀️) and Warrior of Fortress await you.

Daily gift
1x
Points required
Rewards
10 Points
10x 32px,30x , 30x
20 Points
10x 32px, 50x
30 Points
10x 32px, 50x
40 Points
10x 32px, 1x Dark Spirit
50 Points
10x 32px, 1x Divine Spirit
60 Points
10x 32px, 1x Sigmund
80 Points
20x 32px, 1x Penny, 15x

Glory Holy Relic

Special Black Friday Event

To access the Black Friday Event Interface you need to tap on the Black Friday Event Icon 38px from the main screen on the right just under the standard event interface icon.

50pxBlack Friday Favor

29 Nov 2019 UCT

In-game Description
Idle continent Black Friday BIG Sale is on! Get ready for the super price. Items availible is given depending on your VIP level.
Daily gift
Temporarily available exchange rewards

⯈

VIP Gems Exchange
Reward Cost
Rewards
200 Gems
4
400 Gems
6
700 Gems
50 shardsx
1000 Gems
50 shardsx
1500 Gems
1x Valentino
2000 [[File:-icon.png
link=]] [[]]
1x Nakia  5 Super Wishing Coin
2500 Gems
50 Shardsx Elite_5_Star_Hero_Shard   10 Heroic Summon Scroll
3000 Gems
1x Oberon  25

Glory Holy Relic

3500 Gems
1x Elite_5_Star_Hero_Shard   5 Super Wishing Coin
4000 Gems
1 x 32px Gustin  10 Heroic Summon Scroll
4500? Gems
50 Shards

Elite_5_Star_Dark_Hero_Shard

  25

Glory Holy Relic

5000? Gems
50 Shardsx

Elite_5_Star_Light_Hero_Shard

  30

Glory Holy Relic

5500? Gems
50 Shardsx

Elite_5_Star_Dark_Hero_Shard

6000? Gems
50 Shardsx

Elite_5_Star_Light_Hero_Shard




50pxBlack Friday Shopping Manual

29 Nov 2019 UCT

In-game Description
Participate in the Prophet Event to collect Points and get relative rewards. During the Event, complete quests to gain shopping points. Collect the designated number of points to get rich rewards.

👉150 points - New Fortress Warrior. 👉300 points - Precious Artifact 👉Other rewards including Abyss Assassin and Light Mage. 👉The highest reward contains Black Friday Limited Avatar and Black Gold Avatar Frame!

Sources of :

Consume 1 Prophet Orb
Replace 1 5star hero at Prophet Tree Replacement
Black Friday Package
Value Package

Daily gift
Temporarily available exchange rewards

⯈

Shopping Points Exchange
Reward Cost
Rewards
30 28px

Shopping Points

10
60 28px

Shopping Points

10
100 28px

Shopping Points

50 shardsx
150 28px

Shopping Points

1x 32px (UniMax-3000 Limited Skin)
220 28px

Shopping Points

1x 32px
300 [[File:-icon.png
link=]] [[]]
1x 28px

The Kiss of Ghost

400 28px

Shopping Points

1x Aida   20

Glory Holy Relic

500 [[File:-icon.png
link=]] [[]]
1x Demon Bell
600 28px

Shopping Points

  x  

Default

1x Amen-Ra   30

Glory Holy Relic

700 28px

Shopping Points

1 x 28px

Black Friday Limited Avatar

  1 28px

Black Gold Avatar Frame




Gray Dwarves' Blessing

15 Nov 2019 UTC 2 weeks

In-Game Description
During the event you can upgrade to the more advanced Orange Suits with 4 stars and above, including one set of Exclusive Class Suits of your choice. Each upgrade can be done only once.
Daily gift
Costs
Upgrades
1500 , 40M
2500 , 60M
4000 ,100M

Heroic Summon

22 Nov 2019 UCT

Description
Earn points to win prizes. You get 1 point for every heroic summon you complete. Furthermore the chance to receive a 5-Star hero via heroic summon is doubled. The chance to get 24px UniMax-3000 is increased. Maximum 4 rounds can be completed during the event.
NEW Fortress Warrior hero 'UniMax-3000'
Daily gift
3x
Rewards
50 Points
3x , 10x , 100x

Pumpkin Pie

100 Points
3x , 10x , 100x

Pumpkin Pie

200 Points
4x , 10x 1x Rosa

, 150x Pumpkin Pie

300 Points
5x , 5x , 200x

Pumpkin Pie

400 Points
1x 32px UniMax-3000, 250x

Pumpkin Pie

500 Points
15x , 300x

Pumpkin Pie

Additional advantages while the event is on
Hero Lottery

1 hero

You'll be rewarded with , , and every time you summon the hero(es) of the week 28px UniMax-3000 during the event.

Hero Exchange

22 Nov 2019 UCT

Description
Use Soul Stone Shards to exchange temporarily available heroes from the Altar.
Heroes for flash exchange can only be exchanged for once.
Daily gift
Temporarily Available Heroes
6000 Soul Stone Shards
50 shardsx Faith Blade
6000 Soul Stone Shards
50 shardsx Amuvor

Special Thanksgiving Day Event

To access the Thanksgiving Day Event Interface you need to tap on the Thanksgiving Day Event Icon 38px from the main screen on the right just under the standard event interface icon.

Thanksgiving Feast

25 Oct 2019 UCT

In-game Description
On the occasion of Thanksgiving Day, Idle Continent is holding a grand feast to celebrate the annual harvest. During the event, consume Pumpkin Pie and Roast Turkey to exchange for rich rewards.

Sources of Pumpkin Pie:

Loot in Campaign Auto=battle
Summon Prizes event
Daily Reward in system mail
Thanksgiving Package
Value Package

Sources of Roast Turkey:

Value Package

Daily gift
100x None
Temporarily available exchange rewards

⯈

Pumpkin Pie Exchange
Reward Cost
Rewards
1

Pumpkin Pie

50K
200

Pumpkin Pie

10
1

Roast Turkey

5 shardsx
1000

Pumpkin Pie

50x 32px (Penny Limited Skin)
1500

Pumpkin Pie

1x Garuda
1000

Pumpkin Pie

   10x

Roast Turkey

1x Aspen  10

Glory Holy Relic

15

Roast Turkey

1x Amen-Ra   10

Glory Holy Relic

5000

Pumpkin Pie

1x 28px Wildfire Torch  10

Glory Holy Relic

40

Roast Turkey

  1500x  

Pumpkin Pie

1x 28px

Golden Crown

  30

Glory Holy Relic




Harvest Day

22 Nov 2019 UTC

In-Game Description
The Harvest Day special event has started!
During the Event, complete the assigned quests to get generous rewards. (send via mail).
NOTE: 2019 Thanksgiving Day Event
Daily Gift

Week 1

None

Required Task

 Rounds Allowed: 1

Rewards
Obtain 20 5-star heroes via Summon Circle, Creation Circle, and Shard Summon
AND
Obtain 30 4-star heroes via Summon Circle, and Shard Summon
50 Shardsx

Orange_Artifact_Exclusive_Fragment

Summon 100 times at Heroic Summon
AND
Wish 50 times at Wishing Fountain
50 Shardsx Elite_5_Star_Hero_Shard,
Fight at Crystal Crown League 30 times.
AND
Obtain 5-star UniMax-3000 for the first time
1 Shardsx

Skin_Shards_Package

Complete 10 5-star and above Tavern Quests
AND
Obtain 6-star UniMax-3000 for the first time
666 Shardsx Gems , 20x

Glory Holy Relic

Complete 20 4-star and above Tavern quests
10x Heroic Summon Scroll, 5x Prophet Orb
Disassemble 20 3-star heroes at Altar
10 Shardsx Universal_skin_shards







Thanksgiving Package

22 Nov 2019 UCT

Package
To Celebrate Thanksgiving, Idle Continent has prepared 2 packages you can purchase. Go to Thanksgiving Day Event Interface to participate!

During the event, 2 tiers of Thanksgiving Day Packages are prepared for you to purchase.
NOTE: This requires real money to be spent in order to obtain rewards

Daily gift

None

Thanksgiving Package
Feast Package
US$19.99

Limit: 1

1888x 30x 500x 5x VIP EXP +1000
US$49.99

Limit: 1

2500x 50x 1000x 10 Skin Shards32px VIP EXP +2500

50pxSleepless Maze

08 Nov 2019 UCT

In-game Description
"Welcome to primetime! Do remember, no running in the maze.". During event, there is a chance to drop Freddy Bear in the Campaign Auot-Battle loot. Go collect more toy bears to redeem rich rewards.
Daily gift
100x 32px
Temporarily available exchange rewards

⯈

Freddy Bear Exchange
Reward Cost
Rewards
1 28px

Freddy Bear

50K
2 28px

Freddy Bear

30K
100 28px

Freddy Bear

1x
120 28px

Freddy Bear

1x
300 28px

Freddy Bear

1x
1500 28px

Freddy Bear

10 shardsx (Jahra Limited Skin)
2300 28px

Freddy Bear

1x Skerei
2700 28px

Freddy Bear

1x 32px Gustin
3100 28px

Freddy Bear

1x Amen-Ra
3600 28px

Freddy Bear

1 x

Magic Stone Sword

3600 28px

Freddy Bear

1 28px

Antlers cane




Tips:

⯈

Information and advice regarding the event and recommendations.

For Beginners recommend Prophet Orbs then Scrolls then use the rest on gold or spirit as needed.
If you plan on spending money Amen-Ra and/or the Artifacts.
Heroes are only recommended if you plan on building them past 10 Star
Limited Skins are good if you not need the orbs and it is for a hero you plan to Enable. (Mid to End Game players.)

Shelter Mission

15 Nov 2019 UCT

Description
During the event, player can consume appointed heroes, Gold and gems to complete Shelter Missions and get generous rewards.
Each mission can only be completed once.
Daily gift
Missions
Event Cost
Event Rewards
Mission 1
4x 1x

Fortress-Mage

1x Ormus, 1x , 1x
Mission 2
4x 1x

Shadow-Warrior

1x Corpsedemon,1x, 1x
Mission 3
4x 1x

Forest-Assassin

1x Heart Watcher, 1x, 1x
Mission 4
4x 1x

Abyss-Mage

1x Skerei, 1x, 1x
Mission 5
2000x 2x

-

1x Das Moge
Mission 6
2000x 2x

-

1x Gerke

Wishing Fountain

15 Nov 2019 UTC

In-Game Description
Earn points to win prizes. You get 1 point for every spin of the Wishing Fountain wheel (excludes Super Wishing Fountain). Reset automatically after all the quests are completed.
Players can complete the quests multiple times (max of 4 times) to get rewards.
Daily gift
1x Super Wishing Coin  + 150 x
Rewards
50 Points
2x , 2x
100 Points
2x , 2x
200 Points
2x , 4x
300 Points
2x , 1x Starlight, 5x

Lucky Wishing Fountain

15 Nov 2019 UTC

In-Game Description
During the Event consume Wishing Coins to claim rich rewards. (send via mail).

Spend Gems to enable the reset button, which will give you another 10 rounds to earn quest reward.(quests progress remain unchanged) Gem Consumption of reset = Reset counts x1000

Daily gift

None

Required Task

 Rounds Allowed: 10

Rewards
Draw 20 times at Wishing Fountain
1000x Monster Souls, 1000x
Draw 5 times at Super Wishing Fountain
200x Chaos Stone, 1000x Magic Dust

Mysterious Chest

08 Nov 2019 UCT

Description
Purchase Treasure Chests with Gems. Each chest can be bought only once.
Daily gift
Chests
Reward Cost
Rewards
 Chest1
500
5x , 5000x
 Chest2
1200
5x , 5000x
 Chest3
2400
8x , 2000x
 Chest4
4000
50x , 20K
 Chest5
8000
1x Cthugha, 30x , 25K Guild Coin
Tips:

⯈

Information and advice regarding the event and recommendations.

Aim for the 8K chest if only for the Guild coins
Next best the Prophet Orbs
Other wise the Heroic Scrolls
Chest 4 and Chest 2 only recommended if you need the material for hero or monster upgrade

Heroic Miracle

01 Nov 2019 UCT

Description
You have to complete the required number of specific hero summons to earn different rewards. Additionally, you will receive 1x 5 star Hero when you complete all the tasks.
【Heroic Miracle】

Complete task of each camp to get corresponding rewards. When you accomplish all tasks of six camps, you can also get the hero Belrain

Daily gift
Summon Limit
Fraction
Rewards
2
5 Light
1x , 1x , 5x
2
5 Dark
1x , 1x , 5x
3
5 Forest
1x , 1x , 6x
3
5 Abyss
1x , 1x , 6x
3
5 Fortress
1x , 1x , 6x
3
5 Shadow
1x , 1x , 6x
Complete all Heroic Miracle Quests
Belrain

Prophet Summon

01 Nov 2019 UCT

In-Game Description
You must use Prophet Orb to earn points towards the event.

1x = 1 Point.
The Prophet Summon Event is repeatable, meaning you can fully complete it up to a maximum of 4 times.
【Prophet Summoning Event】
Daily gift
1x
Points required
Rewards
10 Points
10x ,30x , 30x
20 Points
10x , 50x
30 Points
15x , 50x
40 Points
15x , 1x Dark Spirit
50 Points
20x , 1x Divine Spirit
60 Points
20x , 1x Jahra
80 Points
30x , 1x Cthugha, 15x

Glory Holy Relic

Special Halloween Event

To access the Halloween Event Interface you need to tap on the Halloween Event Icon from the main screen on the right just under the standard event interface icon.

Pumppy's Treasure

25 Oct 2019 UCT

In-game Description
Naughty Pumppy shows up in the Idle Continent. During event, you can obtain Pumppy's Treasure by using Candy.
Daily gift
Temporarily available exchange rewards

⯈

Candy Exchange
Reward Cost
Rewards
1

Candy

5
20

Candy

10
50

Candy

50x
100

Candy

50x
150

Candy

1x Cthugha
150

Candy

1x Horus
200

Candy

1x

Elite_5_Star_Dark_Hero_Shard

200

Candy

1x

Elite_5_Star_Light_Hero_Shard

300

Candy

1x Aida
300

Candy

1 x Amen-Ra
300

Candy

1

Orange_Artifact_Exclusive_Fragment




Witch Forest

25 Oct 2019 UCT cont through 1 Nov 2019 UCT 2 weeks

Witch Forest Information
On occasion of Hallow, a dark magical forest emerges on the Igle Continent. A witch who loves Caramel Apples lives int he forest. When she collects enough Caramel Apples, strange things happen...

Consumption of Caramel Apples can randomly replace the skin into other skin of the same quality, and each skin is replaced with the same odd. (normal skin can not be replaces)
If you are not satisfied with the result of the replacement, you can cancel to keep the original skin, but the consumed Caramel Apples will not be returned.
Tap 'Save' to save the new skin replaced, and the original skin and caramel Apples will be consumed.
The skin level is divided into Four categories: Festival Legendary, Legendary, Festival Limited, Limited.
After placing the skin that needs to be replaced on the left magic circle, click on the right magic circle to see the skin preview that may be replaced.
The skin in use needs to be removed before replacement.
Sources of Caramel Apples:

Daily Reward in system mail
Value Package
Purchase with Gems at the event interface
NOTE: 2019 Halloween Skin exchange Event

Daily Gift

Week 1

2x  + 3 x (NOTE: is the Standard gift for the Heroic Summon event this is NOT in addition to the Heroic Summon Event.)
Daily Gift

Week 2

2x

Caramel Apple

 + 1 x (NOTE: is the Standard gift for the Prophet Orb event this is NOT in addition to the Prophet Orb Event.)




Halloween Package

25 Oct 2019 UCT

Package
To Celebrate Halloween, Idle Continent is holding a grand 2 week celebration. Go to Halloween Event Interface to participate!

During the event, 2 tiers of Halloween Packages are prepared for you to purchase.
NOTE: This requires real money to be spent in order to obtain rewards

Daily gift

None

Ghost Package
Demon Package
US$9.99

Limit: 1

1101x 10x 50x 5x VIP EXP +500
US$49.99

Limit: 1

2500x 50x 150x 10 Skin Shards32px VIP EXP +2500

Gray Dwarves' Blessing

18 Oct 2019 UTC 2 weeks

In-Game Description
During the event you can upgrade to the more advanced Orange Suits with 4 stars and above, including one set of Exclusive Class Suits of your choice. Each upgrade can be done only once.
Daily gift
Costs
Upgrades
1500 , 40M
2500 , 60M
4000 ,100M

Heroic Summon

25 Oct 2019 UCT

Description
Earn points to win prizes. You get 1 point for every heroic summon you complete. Furthermore the chance to receive a 5-Star hero via heroic summon is doubled. The chance to get Garuda is increased. Maximum 4 rounds can be completed during the event.
NEW Forest Warrior hero 'Garuda'
Daily gift
3x
Rewards
50 Points
3x , 10x , 10x

Candy

100 Points
3x , 10x , 20x

Candy

200 Points
4x , 10x 1x Miki

, 30x Candy

300 Points
5x , 5x , 40x

Candy

400 Points
1x Garuda, 50x

Candy

500 Points
15x , 50x

Candy

Additional advantages while the event is on
Hero Lottery

1 hero

You'll be rewarded with , , and every time you summon the hero(es) of the week Garuda during the event.

Hero Exchange

25 Oct 2019 UCT

Description
Use Soul Stone Shards to exchange temporarily available heroes from the Altar.
Heroes for flash exchange can only be exchanged for once.
Daily gift
Temporarily Available Heroes
6000 Soul Stone Shards
50 shardsx Asmodel
5500 Soul Stone Shards
50 shardsx Nakia

Ormus's Wonderbook

11 Oct 2019 UCT

In-game Description
Ormus' collection - onderbook scattered all around the Idle Continent. During event, there is a chance to drop Torn Pages of the Wonderbook to exchange for sincere gifts prepared by Ormus.
Daily gift
Temporarily available exchange rewards

⯈

Torn Pages Exchange
Reward Cost
Rewards
1

Torn Pages

50K
2

Torn Pages

30K
100

Torn Pages

1x
120

Torn Pages

1x
300

Torn Pages

1x
1500

Torn Pages

10 shardsx 28px

Limited Memorial Avatar

2300

Torn Pages

1x Valentino
2700

Torn Pages

1x Horus
3100

Torn Pages

1x Aida
3600

Torn Pages

1 x Demon Bell
3600

Torn Pages

1

Punisher_of_Immortal

1

Universal Crystal

1x

Torn Pages

1

Cheese Mooncake

500Kx gold
1

Osmanthus Mooncake

50x gems
Tips:

⯈

Information and advice regarding the event and recommendations.

For Beginners recommend Prophet Orbs then Scrolls then use the rest on gold or spirit as needed.
If you plan on spending money or have enough universal crystals Aida or the Artifact.
Heroes are only recommended if you plan on building them past 10 Star
Limited Skins are good if you not need the orbs and it is for a hero you plan to Enable. (Mid to End Game players.)

Shelter Mission

18 Oct 2019 UCT

Description
During the event, player can consume appointed heroes, Gold and gems to complete Shelter Missions and get generous rewards.
Each mission can only be completed once.
Daily gift
Missions
Event Cost
Event Rewards
Mission 1
4x 1x

Fortress-Mage

1x Valentino, 1x , 1x
Mission 2
4x32px 1x

Shadow-Range

1x Kamath,1x, 1x
Mission 3
4x 1x

Forest-Priest

1x Vesa, 1x, 1x
Mission 4
4x 1x

Abyss-Warrior

1x King Barton, 1x, 1x
Mission 5
2000x 2x

-

1x Dark Arthindol
Mission 6
2000x 2x

-

1x Michelle

Wishing Fountain

18 Oct 2019 UTC

In-Game Description
Earn points to win prizes. You get 1 point for every spin of the Wishing Fountain wheel (excludes Super Wishing Fountain). Reset automatically after all the quests are completed.
Players can complete the quests multiple times (max of 4 times) to get rewards.
Daily gift
1x Super Wishing Coin  + 150 x
Rewards
50 Points
2x , 2x
100 Points
2x , 2x
200 Points
2x , 4x
300 Points
2x , 1x Kharma, 5x

Mysterious Chest

11 Oct 2019 UCT

Description
Purchase Treasure Chests with Gems. Each chest can be bought only once.
Daily gift
Chests
Reward Cost
Rewards
 Chest1
500
5x , 5000x
 Chest2
1200
5x , 1x , 1x
 Chest3
2400
8x , 1x , 1x
 Chest4
4000
50x , 20K
 Chest5
6000
1x , 25Kx , 1

Skin Shards Package

Tips:

⯈

Information and advice regarding the event and recommendations.

Aim for the 6K chest if only for the Guild coins
Next best the Prophet Orbs
Other wise the Heroic Scrolls
Chest 4 and Chest 2 only recommended if you need the dust for hero stones or equipment

Heroic Miracle

27 Sept 2019 UCT cont through 4 Oct 2019 UCT 2 weeks

Description
You have to complete the required number of specific hero summons to earn different rewards. Additionally, you will receive 1x 5 star Hero when you complete all the tasks.
Daily gift
1x None
Summon Limit
Fraction
Rewards
2
5 Light
1x , 1x , 5x
2
5 Dark
1x , 1x , 5x
3
5 Forest
1x , 1x , 6x
3
5 Abyss
1x , 1x , 6x
3
5 Fortress
1x , 1x , 6x
3
5 Shadow
1x , 1x , 6x
Complete all Heroic Miracle Quests
Mihm, 30x

Glory Chest

Prophet Summon

27 Sept 2019 UCT cont through 4 Oct 2019 UCT 2 weeks

In-Game Description
You must use Prophet Orb to earn points towards the event.

1x = 1 Point.
The Prophet Summon Event is repeatable, meaning you can fully complete it up to a maximum of 4 times.
Daily gift
1x
Points required
Rewards
10 Points
5x ,30x , 30x
20 Points
5x , 50x
30 Points
5x , 50x
40 Points
5x , 1x Dark Spirit
50 Points
5x , 1x Divine Spirit
60 Points
5x , 1x Heart Watcher
80 Points
10x , 1x Michelle, 15x

Glory Holy Relic

Celebration of Glory

27 Sept 2019 UCT cont through 4 Oct 2019 UCT 2 weeks

Celebration of Glory
During the event, Campaign Auto-battle reward x2, Event Raid reward x2, First time to replenish Your Gems event is reset!(Details in event interface)
NOTE: To Celebrate the 700th anniversary of Fortress Kingdom, Idle Continent is holding a grand 2 week celebration. Go to Limited Events to participate!
Daily Gift

Week 1

5x  + 1 x  + 1 x
(NOTE: is the Standard gift for the Prophet Orb event this is NOT in addition to the Prophet Orb Event.)
Daily Gift

Week 2

5x

Glory Chest

 + 1 x  + 1 x
Rewards




Carnival Box

27 Sept 2019 UCT cont through 4 Oct 2019 UCT 2 weeks

Carnival Box Information
Pennys box of novelties. Open to get hero shards. You can get extra Combo Reward if the shards form particular combinations. (Details in event interface)

Penny is sharing with us her novelties for the celebration:Carnival Box

The reward pool of a carnival Box contains shards of all 3-Star heroes, with 20 shards for each hero. Open a carnival Box to get 3-star hero shards of 5 random different heroes.(each with the same odds).
During the event, if the shards obtained from Box form the below combinations, Penny will give you the extra Combo Reward beside the Box Reward.

Contains 3 heroes from an identical faction: Get extra 4-star hero shard x30
Contains 4 heroes from an identical faction: Get extra 5-star hero Shard x50
All 5 heroes from an identical faction: Get extra Elite 5-star hero shard x50
Each of the 5 heroes from different factions: Get extra 4-star Dark Hero shard x60 and 4-star Light hero Shard x60

When the event ends, unopened Carnival Boxes can also be opened in the Bag. but then you can only get Box Rewards. Combo Reward cannot be obtained.
You can tap on the Log icon at the event interface to check out the opening record of the Carnival Boxes.
Sources of Carnival Boxes:

Daily Reward in system mail
Value Package
Celebration Package
Purchasse with Gems at the event interface
NOTE: To Celebrate the 700th anniversary of Fortress Kingdom, Idle Continent is holding a grand 2 week celebration. Go to Limited Events to participate!

Daily Gift

Week 1

5x  + 1 x  + 1 x (NOTE: is the Standard gift for the Prophet Orb event this is NOT in addition to the Prophet Orb Event.)
Daily Gift

Week 2

5x

Glory Chest

 + 1 x  + 1 x (NOTE: is the Standard gift for the Prophet Orb event this is NOT in addition to the Prophet Orb Event.)




Celebration Package

4 Oct 2019 UCT

Package
To Celebrate the 700th anniversary of Fortress Kingdom, Idle Continent is holding a grand 2 week celebration. Go to Limited Events to participate!

During the event, 4 tiers of Celebration Packages are prepared for you to purchase. (update two on Sept 27 and Update another two on Oct 4)
NOTE: This requires real money to be spent in order to obtain rewards

Daily gift

None

Package 1 Deal
Package 2 Deal
US$9.99

Limit: 1

1000x 3x 3x 30x VIP EXP +500
US$29.99

Limit: 1

Celebration Package

27 Sept 2019 UCT

Package
To Celebrate the 700th anniversary of Fortress Kingdom, Idle Continent is holding a grand 2 week celebration. Go to Limited Events to participate!

During the event, 4 tiers of Celebration Packages are prepared for you to purchase. (update two on Sept 27 and Update another two on Oct 4)
NOTE: This requires real money to be spent in order to obtain rewards

Daily Gift
5x  + 1 x  + 1 x

(This is the Standard gift for the Prophet Orb event this is NOT in addition to the Prophet Orb Event.)

None

Package 1 Deal
Package 2 Deal
US$1.99

Limit: 1

600x 1x 2x 10x VIP EXP +100
US$49.99

Limit: 1

Gray Dwarves' Blessing

20 Sept 2019 UTC 2 weeks

In-Game Description
During the event you can upgrade to the more advanced Orange Suits with 4 stars and above, including one set of Exclusive Class Suits of your choice. Each upgrade can be done only once.
Daily gift
Costs
Upgrades
1500 , 40M
2500 , 60M
4000 ,100M

Shelter Mission

20 Sept 2019 UCT

Description
During the event, player can consume appointed heroes, Gold and gems to complete Shelter Missions and get generous rewards.
Each mission can only be completed once.
Daily gift
Missions
Event Cost
Event Rewards
Mission 1
4x 1x

Fortress-Warrior

1x Sigmund, 1x , 1x
Mission 2
4x 1x

Shadow-Mage

1x Jahra,1x, 1x
Mission 3
4x 1x

Forest-Ranger

1x Demon Hunter, 1x, 1x
Mission 4
4x 1x

Abyss-Assassin

1x Karim, 1x, 1x
Mission 5
2000x 2x

-

1x Sleepless
Mission 6
2000x 2x

-

1x Gerke

Wishing Fountain

20 Sept 2019 UTC

In-Game Description
Earn points to win prizes. You get 1 point for every spin of the Wishing Fountain wheel (excludes Super Wishing Fountain). Reset automatically after all the quests are completed.
Players can complete the quests multiple times (max of 4 times) to get rewards.
Daily gift
1x Super Wishing Coin
Rewards
50 Points
2x , 2x
100 Points
2x , 2x
200 Points
2x , 4x
300 Points
2x , 1x Barea, 5x

Heroic Summon

13 Sept 2019 UCT

Description
Earn points to win prizes. You get 1 point for every heroic summon you complete. Furthermore the chance to receive a 5-Star hero via heroic summon is doubled. The chance to get 24px Gustin is increased. Maximum 4 rounds can be completed during the event.
NEW Shadow Priest hero 'Gustin'
Daily gift
3x
Rewards
50 Points
3x , 10x
100 Points
3x , 10x
200 Points
4x , 10x 1x Karim
300 Points
5x , 5x
400 Points
1x 32px Gustin
500 Points
15x
Additional advantages while the event is on
35pxHero Lottery

1 hero

You'll be rewarded with , , and every time you summon the hero(es) of the week 28px Gustin during the event.

Hero Exchange

13 Sept 2019 UCT

Description
Use Soul Stone Shards to exchange temporarily available heroes from the Altar.
Heroes for flash exchange can only be exchanged for once.
Daily gift
Temporarily Available Heroes
6000 Soul Stone Shards
50 shardsx Penny
5500 Soul Stone Shards
50 shardsx Xia

50pxMoonlight Pool

13 Sept 2019 UCT

Mid-Autumn Festival
Mysterious Moonlight Pool in the legend has appeared on the Idle Continent. During the event, 4 goddesses will show up from the Moonlight Pool to fulfill your desires on Artifacts, Skins and heroes, etc. Use Mooncakes to exchange for them.

There are 4 goddess paths in the moonlight event that has 2 pools in each. Tap a hero to enter its exchange interface.
Each hero wil make their presence at both Crescent Pool and Full Moon Pool. Use Cheese Mooncake to exchange for items in Crescent Pool, while use Osmanthus Mooncake to exchange for items in the Full Moon Pool.
At exchange interface of each hero, you can only choose one item from each of the two Pools to exchange for.


Cheese Mooncake Sources: 10 Heroic Summons = 1 (Max 200), Summon or Create 1 5-Star Hero = 1 (Max 40),10 spins in Wishing Fountain = 1 (Max 30), 4-star or above Tavern Quest Completed = 1 (Max 30), 5 battles in Crystal Crown League = 1 (Max 30), Light up Gustin 5-star in Gallery = 10 (Max 10), Light up Gustin 6-star in Gallery = 20 (Max 20), Light up Gustin 10-star in Gallery = 60 (Max 60).
Osmanthus Mooncake Sources: Value Package, Festive Lantern Package.

Daily gift
Temporarily available exchange rewards

⯈

Mooncakes Exchange
Reward Cost
Possible Rewards


Only one item from each option within the goddess paths can be rewarded.

Skin Path - Miki Goddess
35

Cheese Mooncake

10 Shards (Jahra's Skin) or 10 Shards 28px

Bloody War God

(Horus's Skin) or 10 Shards 28px

Video Game Storm

(Valentino's Skin) or 10 Shards 28px

Goldern Age

(King Barton's Skin)
35

Osmanthus Mooncake

10 (Mihm's Skin) or 10 Shards 28px

Dark Eclipse

(Aida's Skin) or 10 Shards

Revenge Bride

(Dark Athindol's Skin) or 10 Shards 28px

Dragonic Warrior

(Aspen's Skin)
Hero Path - Xia Goddess
70

Cheese Mooncake

1  or 1

Horus-5

 or 1

Oberon-5

 or 1

Valkyrie-5

100

Osmanthus Mooncake

1 Fragments  or 1

Aspen-5

 or 1

Dark Arthindol-5

 or 1 28px Amuvor
Hero Path - Penny Goddess
70

Cheese Mooncake

1x  or 1

Kroos-5

 or 1

Penny-5

 or 1

Valentino-5

100

Osmanthus Mooncake

1x  or 1

Asmodel-5

 or 1

Belrain-5

Artifact Path - Aida Goddess
245

Cheese Mooncake

1x 32px  or 1 28px

Lucky candy bar

 or 1 28px

Antlers cane

 or 1 Augustus Magic Ball
245

Osmanthus Mooncake

1x  or 1 28px Wildfire Torch or 1 Demon Bell

50pxShadow Graveyard

6 Sept 2019 UCT

In-game Description
During the event,there is a chance to drop 28px

Skull Coin

 in the campaign Auto-battle. Use 28px

Skull Coin

 to exchange for various rewards in the event interface.


Auto-Drops end at 08:00AM, 13 Sept (UTC/GMT+8)
Exchange ends at 08:00AM, 14 Sept (UTC/GMT+8)

Daily gift
100x 32px
Temporarily available exchange rewards

⯈

Skull Coin Exchange
Reward Cost
Rewards
1 28px

Skull Coin

50K
2 28px

Skull Coin

30K
100 28px

Skull Coin

1x
120 28px

Skull Coin

1x
300 28px

Skull Coin

1x
1500 32px
10 shardsx (Sigmund Limited Skin)
2300 32px
1x Jahra
2700 32px
1x Xia
3100 28px

Skull Coin

1x
3600 32px
1x 28px

Lucky candy bar

1

Universal Crystal

1x 28px

Skull Coin

Tips:

⯈

Information and advice regarding the event and recommendations.

For Beginners recommend Prophet Orbs then Scrolls then use the rest on gold or spirit as needed.
If you plan on spending money or have enough universal crystals Aspen or the Artifact.
Heroes are only recommended if you plan on building them past 10 Star

Mysterious Chest

6 Sept 2019 UCT

Description
Purchase Treasure Chests with Gems. Each chest can be bought only once.
Daily gift
Chests
Reward Cost
Rewards
 Chest1
500
5x , 5000x
 Chest2
1200
5x , 5000x
 Chest3
2400
8x , 2000x
 Chest4
4000
50x , 20K
 Chest5
6000
1x , 25K Guild Coin
Tips:

⯈

Information and advice regarding the event and recommendations.

Aim for the 6K chest if only for the Guild coins
Next best the Prophet Orbs
Other wise the Heroic Scrolls
Chest 4 and Chest 2 only recommended if you need the dust for hero stones or Monster Souls for Monster upgrade

Gray Dwarves' Blessing

23 Aug 2019 UTC 2 weeks

In-Game Description
During the event you can upgrade to the more advanced Orange Suits with 4 stars and above, including one set of Exclusive Class Suits of your choice. Each upgrade can be done only once.
Daily gift
Costs
Upgrades
1500 , 40M
2500 , 60M
4000 ,100M

Heroic Miracle

30 Aug 2019 UCT

Description
You have to complete the required number of specific hero summons to earn different rewards. Additionally, you will receive 1x 5 star Hero when you complete all the tasks.
【Heroic Miracle】

Complete task of each camp to get corresponding rewards. When you accomplish all tasks of six camps, you can also get the hero —— Faith Blade

Daily gift
Summon Limit
Fraction
Rewards
2
5 Light
1x , 1x , 5x
2
5 Dark
1x , 1x , 5x
3
5 Forest
1x , 1x , 6x
3
5 Abyss
1x , 1x , 6x
3
5 Fortress
1x , 1x , 6x
3
5 Shadow
1x , 1x , 6x
Complete all Heroic Miracle Quests
Faith Blade

Prophet Summon

30 Aug 2019 UCT

In-Game Description
You must use Prophet Orb to earn points towards the event.

1x = 1 Point.
The Prophet Summon Event is repeatable, meaning you can fully complete it up to a maximum of 4 times.
【Prophet Summoning Event】

It's your chance to get rewards of heroes: Kroos and Oberon

Daily gift
1x
Rewards
10 Points

Shelter Mission

23 Aug 2019 UCT

Description
During the event, player can consume appointed heroes, Gold and gems to complete Shelter Missions and get generous rewards.
Each mission can only be completed once.
Daily gift
Missions
Event Cost
Event Rewards
Mission 1
4x 1x

Fortress-

1x Emily, 1x , 1x
Mission 2
4x 1x

Shadow-Assassin

1x Blood Blade,1x, 1x
Mission 3
4x 1x

Forest-Warrior

1x Groo, 1x, 1x
Mission 4
4x 1x

Abyss-Mage

1x Skerei, 1x, 1x
Mission 5
2000x 2x

-

1x Amuvor
Mission 6
2000x 2x

-

1x Belrain

Wishing Fountain

23 Aug 2019 UTC

In-Game Description
Earn points to win prizes. You get 1 point for every spin of the Wishing Fountain wheel (excludes Super Wishing Fountain). Reset automatically after all the quests are completed.
Players can complete the quests multiple times (max of 4 times) to get rewards.
Daily gift
1x Super Wishing Coin
Rewards
50 Points
2x , 2x
100 Points
2x , 2x
200 Points
2x , 4x
300 Points
2x , 1x Flame Strike, 5x

Mysterious Chest

16 Aug 2019 UCT

Description
Purchase Treasure Chests with Gems. Each chest can be bought only once.
Daily gift
Chests
Reward Cost
Rewards
 Chest1
500
5x , 5000x
 Chest2
1200
5x , 5000x
 Chest3
2400
8x , 2000x
 Chest4
4000
50x , 20K
 Chest5
8000
1x Oberon, 30x , 25K Guild Coin
Tips:

⯈

Information and advice regarding the event and recommendations.

Aim for the 8K chest if only for the Relics and Guild coins
Next best the Prophet Orbs
Other wise the Heroic Scrolls
Chest 4 and Chest 2 only recommended if you need the dust for hero stones or Monster Souls for Monster upgrade

Idlers' Tavern

16 Aug 2019 UCT

In-game Description
During the event,there is a chance to drop 

Malt Beer

 in the campaign Auto-battle. Use 

Malt Beer

 to exchange for various rewards in the event interface.


Auto-Drops end at 08:00AM, 23 Aug (UTC/GMT+8)
Exchange ends at 08:00AM, 24 Aug (UTC/GMT+8)

Daily gift
100x
Temporarily available exchange rewards

⯈

Malt Beer Exchange
Reward Cost
Rewards
1

Malt Beer

50K
2

Malt Beer

30K
100

Malt Beer

1x
120

Malt Beer

1x
300

Malt Beer

1x
1500
10 shardsx 32px (Queen Limited Skin)
2300
1x Vesa
2700
1x Cthugha
3100

Malt Beer

1x
3600
1x 28px

The Kiss of Ghost

1

Universal Crystal

1x

Malt Beer

Tips:

⯈

Information and advice regarding the event and recommendations.

For Beginners recommend Prophet Orbs then Scrolls then use the rest on gold or spirit as needed.
If you plan on spending money or have enough universal crystals Amen-Ra or the Artifact.
Heroes are only recommended if you plan on building them past 10 Star

Heroic Miracle

9 Aug 2019 UCT

Description
You have to complete the required number of specific hero summons to earn different rewards. Additionally, you will receive 1x 5 star Hero when you complete all the tasks.
When you accomplish all tasks of six camps, you can also get the hero —— A handsome boy from Fortress.
Daily gift
Summon Limit
Fraction
Rewards
2
5 Light
1x , 1x , 5x
2
5 Dark
1x , 1x , 5x
3
5 Forest
1x , 1x , 6x
3
5 Abyss
1x , 1x , 6x
3
5 Fortress
1x , 1x , 6x
3
5 Shadow
1x , 1x , 6x
Complete all Heroic Miracle Quests
Valentino

Prophet Summon

9 Aug 2019 UCT

In-Game Description
You must use Prophet Orb to earn points towards the event.

1x = 1 Point.
The Prophet Summon Event is repeatable, meaning you can fully complete it up to a maximum of 4 times.
The Aurora Borealis coming from the sparkling light of Female General's armour, when she galloping through the night.
Daily gift
1x
Rewards
10 Points

Gray Dwarves' Blessing

26 July 2019 UTC 2 weeks

In-Game Description
During the event you can upgrade to the more advanced Orange Suits with 4 stars and above, including one set of Exclusive Class Suits of your choice. Each upgrade can be done only once.
Daily gift
Costs
Upgrades
1500 , 40M
2500 , 60M
4000 ,100M

Heroic Summon

2 Aug 2019 UCT

Description
Earn points to win prizes. You get 1 point for every heroic summon you complete. Furthermore the chance to receive a 5-Star hero via heroic summon is doubled. The chance to get Nakia is increased. Maximum 4 rounds can be completed during the event.
NEW Abyss Assassin hero 'Nakia'
Daily gift
3x
Rewards
50 Points
3x , 10x
100 Points
3x , 10x
200 Points
4x , 10x 1x Lutz
300 Points
5x , 5x
400 Points
1x Nakia
500 Points
15x
Additional advantages while the event is on
Hero Lottery

1 hero

You'll be rewarded with , , and every time you summon the hero(es) of the week Nakia during the event.

Hero Exchange

2 Aug 2019 UCT

Description
Use Soul Stone Shards to exchange temporarily available heroes from the Altar.
Heroes for flash exchange can only be exchanged for once.
Daily gift
Temporarily Available Heroes
6500 Soul Stone Shards
50 shardsx Aspen
5000 Soul Stone Shards
50 shardsx Heart Watcher
5500 Soul Stone Shards
50 Shardsx Oberon

Matchmaker Campaign

2nd Aug 2019 UCT

Tanabata Festival (Qixi Festival)
Special event for Chinese Valentine's Day

Matchmaker Campaign: Light up the gallery of specified heroes and set them up. Each couple will gift you shiny rewards in return!
Dreamy Wedding: Heart Watcher has dressed up in her gorgeous wedding dress. During the event, fund for specified amount to get Heart Watcher's limited Valentine's Day skin: Hymn to Summer, and Emily shards as a bonus! (pay real money)
NOTE: Special Event. Chinese equivalent of valentines day. Note from Reddit user xanadunext[1] The festival is sort of the ancient chinese valentine day dated back to 500bc..., japanese celebrates this as well namely Tanabata, anyway just sharing to let the community understand more about the festival / chinese culture

Daily gift
Light up Gallery for rewards
Lutz    Emily   750x
Cthugha    Queen   10x
Heart Watcher    oberon   5x|colspan="1"| Xia