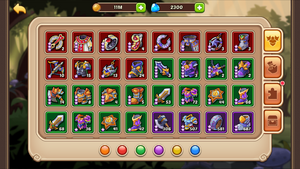 Equipment is one of the main ways, apart from leveling up, to improve individual Hero's stats. There are 6 types of equipment: Weapons, Armour, Shoes, Accessories, Artifacts, and Gems/Stones.
Weapons, Armor, Shoes, and Accessories are accessible from the start. Gems/Stones are locked to individual Heroes, and are given to each Hero when they reach Level 40. Artifacts will only start dropping starting in World 7 of the Campaign, but can be gained through other means (Events are one such way) and can be equipped at any level.
Equipping Weapons, Armour, Shoes, and Accessories of the same tier (e.g. Courage) grants, in addition to the stat bonuses each piece provides, a HP and/or Attack bonus, in percent of the Hero's base HP and Attack.
All equipment, except Gems/Stones, are interchangeable between Heroes.
Blacksmith
Main article: Blacksmith
The Blacksmith is a building accessible from the home screen of the game, which allows players to upgrade their equipment. Only Weapons, Armour, Shoes, and Accessories are upgrade-able through the blacksmith.
Each tier requires 3 items from the previous tier, and gold cost is increased with each tier. The gold costs are listed in the equipment lists below.
Set Bonuses
When a Hero equips multiple pieces of equipment of the same tier, a bonus on HP and/or Attack is given, on top of the stat bonuses that the items provide. The bonuses are given in percentages of the Hero's HP and Attack.
Set bonuses only start at the Courage tier, i.e. the 3-star Green items.
Set name
Bonus/Set pieces needed
1
2
3
Courage Suits
+2% HP
+3% Attack
+1% HP
Night Suits
+3% HP
+4% Attack
+1% HP
Hunter Suits
+4% HP
+5% Attack
+2% HP
Elemental Suits
+5% HP
+7% Attack
+4% HP
Prophecy Suits
+7% HP
+9% Attack
+4% HP
Guardian Suits
+8% HP
+11% Attack
+5% HP
Monster Slayer's Suits
+10% HP
+13% Attack
+5% HP
Ilu's Suits
+11% HP
+15% Attack
+6% HP
The Heaven Suits
+12% HP
+17% Attack
+7% HP
Suits Of The Courageous
+14% HP
+19% Attack
+7% HP
Glory Suits
+15% HP
+20% Attack
+8% HP
Flame Suits
+16% HP
+21% Attack
+8% HP
Equipment lists
Weapons
Name
Effect
Class Bonus / Power
Forge Cost
Notes
Iron Dagger
+15 Attack
15
N/A
Basic weapon, Tier 1.
Good Iron Dagger
+18 Attack
18
N/A
Basic weapon, Tier 1.
War Blade
+32 Attack
32
N/A
Good War Blade
+38 Attack
38
1000
Hammer
+66 Attack
66
2000
Good Hammer
+85 Attack
85
5000
Divine Spear
+168 Attack
168
10000
Good Divine Spear
+218 Attack
218
20000
Courage Hammer
+267 Attack
267
35000
Gained completing Tower of Oblivion stage 85
Night Blade
+317 Attack
317
N/A
Gained only through Challenge
Hunter Crossbow
+414 Attack
414
100k
Gained completing Tower of Oblivion stage 110
Elemental Wand
+502 Attack
502
200k
Gained completing Tower of Oblivion stage 135
Staff of Prophecy
+590 Attack
590
400k
Gained completing Tower of oblivion stage 160,185
Guardian Blessing Dagger
+678 Attack
678
600k
Monster Slayer's Bow
+914 Attack
914

800k

Gained completing Tower of Oblivion stage 210,235,260,285,310,335,360,385
Ilus's Staff
+1116 Attack
1116

1m

Chance to get from Hero Lottery or Heroic Miracle
The Heaven Staff
+1317 Attack
1317

1.2m

Chance to get from Hero lottery or Heroic Miracle
Sword Of The Courageous
+1519 Attack
1519
1.6m
Chance to Get from Shelter mission
Glory Warrior Sword
+2464 Attack
+3.0% Crit dmg
?
2m
Thorny Flame Whip
+3704 Attack
+5.0% Crit dmg
?
?
Assassins Blade
+3704 Attack
+7.0% Attack
+6.0% Attack
+5.0% Crit
N/A
2018 Valentines Event,
Weaver's Staff
+3704 Attack
+7.0% Attack
+6.0% Attack
+5.0% Crit
N/A
Gray Dwarves' Blessing Event
Minstrel's Bow
+3704 Attack
+7.0% Attack
+6.0% Attack
+5.0% Crit
N/A
Element Altar Event, Gray Dwarves' Blessing Event
Oracle's Staff
+3704 Attack
+7.0% Attack
+6.0% Attack
+5.0% Attack
N/A
Gray Dwarves' Blessing Event
Warrior's Epee
+3704 Attack
+7.0% Attack
+6.0% Attack
+10.0% Block
N/A
Gray Dwarves' Blessing Event
Armor
Name
Effect
Class Bonus / Power
Forge Cost
Notes
Leader Armor
+68 HP
11
N/A
Basic armour, Tier 1.
Good Leader Armor
+82 HP
13
N/A
Basic armour, Tier 1.
Plate
+141 HP
23
N/A

Good Plate

+169 HP
28
1000

King's Cuirass

+337 HP
56
2000

Good King's Cuirass

+434 HP
72
5000

Dragon Armor

+970 HP
161
10000

Good Dragon Armor

+1255 HP
209
20000

Courage Armor

+1541 HP
256
35000
Gained completing Tower of Oblivion stage 90
Night Cuirass
+1826 HP
304
N/A

Gained only through Challenge

Hunter Cuirass

+2645 HP
440
100k
Gained completing Tower of Oblivion stage 115

Elemental Cape

+3207 HP
534
200k
Gained completing Tower of Oblivion stage 140
Robe of Prophecy
+3770 HP
628
400k
Gained completing Tower of Oblivion stage 165,190
Guardian Cuirass
+4333 HP
722
600k
Monster Slayer's Cuirass
+6401 HP
1066

800k

Gained completing Tower of Oblivon stage 215, 240,265,290,315,340,365,390
Ilus's Cape
+7811 HP
1301

1m

Chance to get from Heroic Miracle or Hero Lottery
The Heaven Cape
+9222 HP
1537

1.2m

Chance to get from Hero lottery or Heroic Miracle
Plate Of The Courageous
+10632 HP
1772
1.6m
Chance to get from Shelter Mission
Glory Armor
+32455 HP
+1.0% Red. dmg
?
2m
Flame Armor
+52449 HP
+2.0% Red. dmg
?
?
Assassins Cape
+52449 HP
+7.0% HP
+6.0% HP
+5.0% Armor Break
N/A
2018 Valentines Event, Gray Dwarves' Blessing Event
Weaver's Robe
+52449 HP
+7.0% HP
+6.0% HP
+10.0% Precision
N/A
Gray Dwarves' Blessing Event
Minstrel's Cape
+52449 HP
+7.0% HP
+6.0% HP
+5.0% Block
N/A
Element Altar Event, Gray Dwarves' Blessing Event
Oracle's Cape
+52449 HP
+7.0% HP
+6.0% HP
+5.0% Red. Dmg
N/A
Gray Dwarves' Blessing Event
Warrior's Armor
+52449 HP
+7.0% HP
+6.0% HP
+5.0% Red. Dmg
N/A
Gray Dwarves' Blessing Event
Boots
Name
Effect
Class Bonus / Power
Forge Cost
Notes
Armored Boots
+45 HP
7
N/A
Basic boots, Tier 1
Good Armored Boots
+54 HP
9
N/A
Basic boots, Tier 1

Magic Ankle Boots

+94 HP
15
N/A

Good Magic Ankle Boots

+113 HP
18
1000

Sage Boots

+225 HP
37
2000

Good Sage Boots

+289 HP
48
5000

Traveler's Boots

+647 HP
107
10000

Good Traveler's Boots

+837 HP
139
20000

Courage Armored Boots

+1027 HP
171
35000
Gained completing Tower of Oblivion stage 100
Night Boots
+1217 HP
202
N/A

Gained only through Challenge

Hunter Ankle Boots

+1763 HP
293
100k
Gained completing Tower of Oblivion stage 125

Elemental Boots

+2138 HP
356
200k
Gained completing Tower of Oblivion stage 150
Boots of Prophecy
+2513 HP
418
400k
Gained completing Tower of Oblivion stage 175, 200
Guardian Boots
+2889 HP
481
600k
Monster Slayer's Boots
+4267 HP
711

800k

Gained completing Tower of Oblivion 225, 250,275,300,325,350,375,400
Ilus's Boots
+5207 HP
867

1m

The Heaven Ankle Boots
+6148 HP
1024

1.2m

Boots Of The Courageous
+7088 HP
1181
1.6m
Glory Boots
+20146 HP
+2% Block
?
2m
Flame Boots
+32367 HP
+4% Block
?
?
Assassins Boots
+32367 HP
+7.0% HP
+6.0% HP
+20 Speed
N/A
2018 Valentines Event, Gray Dwarves' Blessing Event
Weaver's Boots
+32367 HP
+7.0% HP
+6.0% HP
+20 Speed
N/A
Gray Dwarves' Blessing Event
Minstrel's Boots
+32367 HP
+7.0% HP
+6.0% HP
+20 Speed
N/A
Element Altar Event, Gray Dwarves' Blessing Event
Oracle's Boots
+32367 HP
+7.0% HP
+6.0% HP
+20 Speed
N/A
Gray Dwarves' Blessing Event
Warrior's Boots
+32367 HP
+7.0% HP
+6.0% HP
+20 Speed
N/A
Gray Dwarves' Blessing Event
Accessories
Name
Effect
Class Bonus / Power
Forge Cost
Notes
Iron Ring
+10 Attack
10
N/A
Basic accessory, Tier 1.

Good Iron Ring

+12 Attack
12
N/A
Basic accessory, Tier 1.

Bone Necklace

+21 Attack
21
N/A

Good Bone Necklace

+25 Attack
25
1000

Rune Ring

+44 Attack
44
2000

Good Rune Ring

+57 Attack
57
5000

Brave Badge

+112 Attack
112
10000

Good Brave Badge

+145 Attack
145
20000

Courage Medal

+178 Attack
178

35000

Gained completing Tower of Oblivion stage 95
Night Ring
+211 Attack
211
N/A

Gained only through Challenge

Hunter Necklace

+276 Attack
276
100k
Gained completing Tower of Oblivion stage 120

Elemental Amulet

+335 Attack
335

200k

Gained completing Tower of Oblivion stage 145
Ring of Prophecy
+393 Attack
393

400k

Gained completing Tower of Oblivion stage 170, 195
Guardian Heart
+452 Attack
452

600k

Monster Slayer's Ring
+610 Attack
610

800k

Gained completing Tower of Oblivion stage 220,245,270,295,320,345,370,395
Ilus's Ring
+744 Attack
744

1m

Chance to get from Hero Lottery or Heroic Mircle
The Heaven Necklace
+878 Attack
878

1.2m

Pendant Of The Courageous
+1013 Attack
1013
1.6m
Glory Ring
+1643 Attack
+3.0% skill dmg
?
2m
Flame Necklace
+2469 Attack
+5.0% skill dmg
?
?
Assassins Ring
+2469 Attack
+7.0% Attack
+6.0% Attack
+5.0% Crit Dmg
N/A
2018 Valentines Event, Gray Dwarves' Blessing Event
Weaver's Necklace
+2469 Attack
+7.0% Attack
+6.0% Attack
+10.0% Skill Dmg
N/A
Gray Dwarves' Blessing Event
Minstrel's Ring
+2469 Attack
+7.0% Attack
+6.0% Attack
+5.0% Red. Dmg
N/A
Element Altar Event, Gray Dwarves' Blessing Event
Ring of the Oracle
+2469 Attack
+7.0% Attack
+6.0% Attack
+5.0% HP
N/A
Gray Dwarves' Blessing Event
Warrior's Necklace
+2469 Attack
+7.0% Attack
+6.0% Attack
+5.0% Ctrl. Immune
N/A
Gray Dwarves' Blessing Event
Gems/Stones
Main article: Treasure

Artifacts
Main article: Artifacts